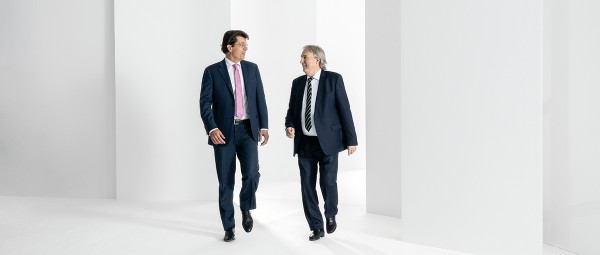 Agility is vitally important
Chief Executive Officer Klaus Rosenfeld and his deputy, Prof. Dr.-Ing. Peter Gutzmer, on the Schaeffler Group's transformation process.
"Staying in motion" is the motto of this year's annual report. From your point of view, what does that mean for Schaeffler?
Klaus Rosenfeld: First of all, that we must not rest on our laurels. Motion and flexibility are prerequisites for transformation. That starts with the mindset – but it takes more than just good ideas. What counts is skillful implementation. The automotive industry in particular is undergoing the biggest transformation process in its entire history. Many factors are playing a role here, ranging from the regulatory environment and customer requirements all the way to the new opportunities offered by digitalization. As a global automotive and industrial supplier, Schaeffler recognized this scenario very early on and developed appropriate measures and product solutions. But we are still a long way from reaching our goal. We are in motion and are working vigorously to align our business model even more closely with the future needs of our customers.
Prof. Dr.-Ing. Peter Gutzmer: Schaeffler has been successfully designing solutions and products for the industry and mobility markets for many years. These very markets are now undergoing radical change worldwide. The world of mobility is becoming electric, connected, and autonomous – just as the world of production is. Vehicles, machines, and their components are becoming smart. Tomorrow's factories will see collaborative robots working directly together with people, and the networking of machines with supply chains will be pushed ahead. Sustainable, resource-conserving products and corresponding production processes are what we are aiming for. We are right in the midst of change. Digitalization, the most profound driver of this accelerated technological transformation, especially requires a willingness to change; in other words, to "stay in motion".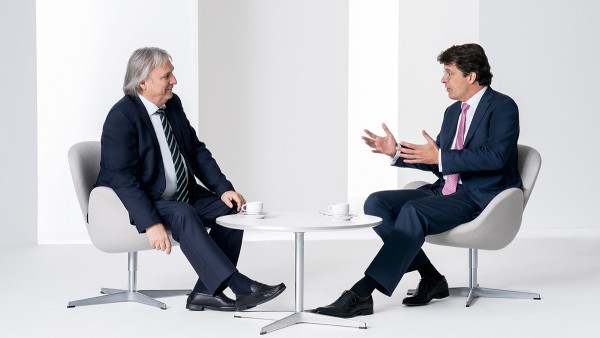 You mentioned the term motion as a basis for transformation. What aspects does this transformation have?
Rosenfeld: The transformation lying ahead of us is very fundamental. It needs a systematic, sustainable approach. Here we distinguish between internal and external initiatives. Our internal initiatives are aimed at increasing our efficiency and at optimizing processes as a whole, while at the same time digitizing them more and more. However, we must also be aware of the fact that our customers' behavior and needs are changing. Take E-Mobility and Industry 4.0, for example. We launched external initiatives with these in mind. Here, too, digitalization plays a crucial role. For all 20 of our internal and external initiatives, we have developed our program for the future, "Agenda 4 plus One", with clear business cases and specific implementation plans – directly supervised by members of the Executive Board. Because what counts is its implementation.
What does this transformation mean for the Schaeffler Group's large product world?
Gutzmer: The demands placed on the product world are becoming much more complex. We must therefore supplement our existing systems and components expertise in the field of mechanical products and industrialization with essential competencies in the fields of electrical engineering, electronics, and software development. The existing product portfolio must be regularly reviewed with regard to the increasingly competitive environment and adapted accordingly. It is vitally important that we further expand our systems expertise. Examples in this context include digital business models for predicting the operating life of rolling bearings and the ability to develop and manufacture complex electric drive systems such as electric axles. Continually expanding systems innovation expertise will lead to new, holistic mobility ideas such as the Bio-Hybrid or the Schaeffler Mover, which complement our product portfolio. As a creative partner of the mobility industry, Schaeffler is expanding its product portfolio to include systems in addition to our well-known components and modules. One example to be mentioned here is yet again the electric axle, which combines mechanics with electrical engineering and information technology and thus represents an attractive system for tomorrow's urban mobility. New simulation models – also known as digital twins – supplemented by big data analyses enable us to further expand our portfolio.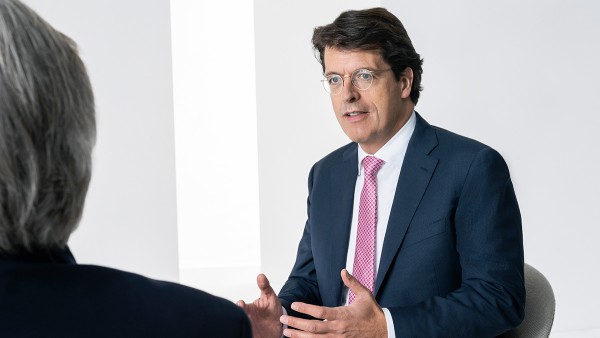 Transformation requires motion and flexibility. That starts with the mindset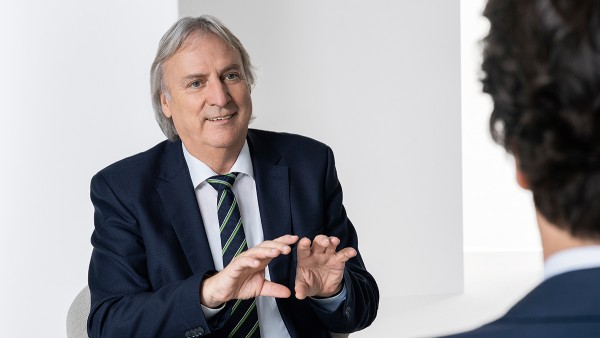 Agility is increasingly becoming a key term. The complexity and dynamics of the digital world require just that – the use of agile methods
Agility is the prerequisite for transformation and motion. How do you keep the Schaeffler Group agile?
Rosenfeld: Agility is vitally important. The strongest force for change has always been curiosity, which leads to motivation. This motivation, combined with responsibility, produces positive agility. In this sense, we must support our employees in a spirit of trust. As a practical example, I would like to mention the future accord between Schaeffler AG's Board of Managing Directors, the Works Council, and the IG Metall trade union, in which we are providing an innovation fund totaling EUR 50 million. The purpose of this fund is to promote innovation in the interests of our German locations by actively tapping into our employees' wealth of ideas.
Gutzmer: Agility is increasingly becoming a key term. The complexity and dynamics of the digital world require the use of agile methods and procedures and the formation of cross-functional teams. On the one hand, we are collaborating closely with dynamic start-ups and organizations working in unconventional ways, such as research institutes and universities. On the other hand, agile work can also be introduced into an established structure. Agile work has proven to be very effective in facilitating comprehensive and goal-oriented cooperation in handling complex tasks within our matrix structure comprising functions, divisions, and regions. Moreover, the expanded digital world of our business processes and the associated IT landscape are also being reorganized into agile structures. The ability to quickly recognize changes in the market, in technology, and in social conditions and adapt to them flexibly and with agility is the only way to secure our company's future in the long term.
What do you expect from employees in this regard?
Rosenfeld: In brief, motivation and dedication, proactive thinking, assuming responsibility – and remaining flexible! A very important point here is that we can only achieve our goals together as a team.
Gutzmer: Team is the notable word here. Our employees play an active role in co-shaping this transformation process. They are the central component throughout the entire process – from beginning to end. I am convinced that an agile way of working will secure us a competitive advantage. Cross-functional teamwork, open communication, and the willingness to always keep learning are essential for this to happen.
How do you facilitate and coordinate this agility on the Board of Managing Directors?
Rosenfeld: A transformation process is a very special challenge for every company, just as for every individual employee and Board member. From my point of view, successful transformation thrives above all on imagination, courage, and especially directness and persuasiveness. Imagination to give us a vision of what we should be heading for. Courage to drive change even when this proves to be painful and involves cutbacks. Directness and persuasiveness to make it clear to the team that "business as usual" is not an option. What is also essential is a good culture of trust. This doesn't entail yes-men, but good listeners – as a rule, the quiet voices are more important than the loud ones. And, of course, an ambitious goal should be part of it all. Specifically for Schaeffler, I would like all employees and managers to come to work highly motivated every morning – despite all this transformation – and our engineers to be prevented as little as possible from doing their jobs. What counts for us is quality, innovation, and technology.
What vision for the Schaeffler Group drives you personally?
Rosenfeld: I take pleasure in my work, in the challenge of making the Schaeffler Group an even better company, and in my responsibility vis-à-vis our employees, our shareholders, and the Schaeffler family. Schaeffler is a family business that is characterized by the work and way of thinking of its founders and family shareholders. Based on the values of a global family company, we practice proximity to our customers through collaborative partnership and we convince as an automotive and industrial supplier with manufacturing expertise and a profound understanding of systems. We want to maintain and cultivate this value base. We have therefore agreed on four central corporate values: sustainable, innovative, excellent, and passionate. I can identify with that 100 percent.
Gutzmer: I would like to convince and motivate colleagues to courageously drive forward necessary changes and adjustments and to tackle new topics. In this way, together we can build a future for our company with successful products and customer relationships, and sustainably shape the mobility of the future.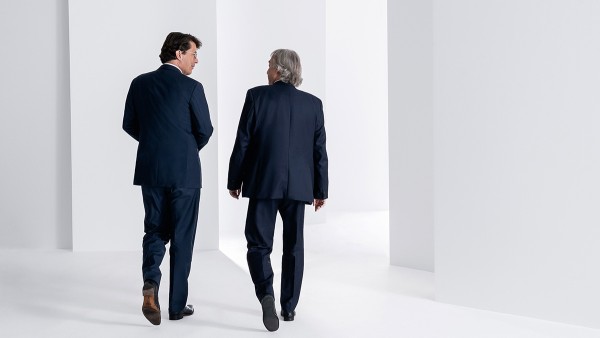 As members of the Board of Managing Directors, you bear special responsibility, especially in these times of transformation. What do you understand this responsibility to involve?
Rosenfeld: For me, leading by example, respect, and courage are the three essential elements of good leadership. These are exactly the elements that are important in periods of major transformation. In my understanding, leadership must always focus on people. In addition, the person bearing leadership responsibility should be empathic and a good role model. Respect is a prerequisite for successful leadership. Additionally, leadership also requires courage – the courage to assume responsibility and make decisions. This applies especially when those decisions are uncomfortable.
Gutzmer: Change brings with it insecurity and sometimes even fear. Leaving familiar paths and the willingness to embark on new ways of thinking, take risks, and develop something new require courage and conviction. My responsibility is to lead by example and to win people over and convince them that we must develop the ability to challenge, change, and supplement our product and process structure, whilst at the same time completely reshaping it. This is the only way we will be able to secure the future of each individual – and also for ourselves as a community – for the long term. It is essential to listen to people, communicate openly, and provide security. But it is also important to promote and support their willingness to create something new and provide the necessary environment for entrepreneurial thinking and action.
On the following pages you present four innovative projects from different sectors and regions. What do they stand for?
Rosenfeld: Exactly for what we've been talking about now. They are examples of the Schaeffler Group's agility that document our transformation process at full speed.
Share Page