Introduction by the chief executive officer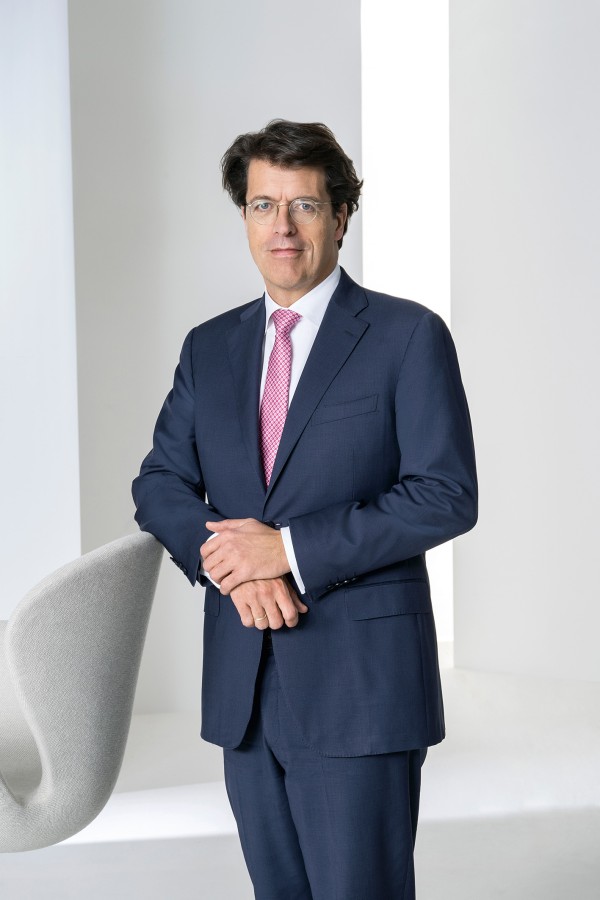 The year 2018 posed some major challenges for the Schaeffler Group. The substantially more challenging market and competitive environment, as well as the significant changes seen in selected key markets – including the declining demand in the automotive industry in China and the new vehicle approval procedure in Europe – all had an impact on our financial bottom line.
Even though we were able to increase our revenue at constant currency by 3.9% to EUR 14.2 billion despite these overall challenging conditions, our earnings before financial result and income taxes (EBIT) before special items declined by around 13% to EUR 1,381 million.
On this basis, the EBIT margin before special items dropped to 9.7%, following 11.3% in the prior year. Net income thus decreased by around 10% to EUR 881 million. Free cash flow before cash in- and outflows for M&A activities, the third important guidance measure, amounted to EUR 384 million, which was better than expected. We once again invested heavily during 2018. With capital expenditures of EUR 1,232 million, the capex ratio came to 8.7%. Moreover, we created around 2,300 new jobs, around 1,000 of them in Germany.
What led to the decline in net income? The reasons are primarily of an operational nature. Our industrial business developed very well over the course of 2018, delivering profitable growth: 10% revenue increase at constant currency with an EBIT margin of 11% compared with 8% in the prior year. This means we reached the target corridor of an EBIT between 11% and 13% two years earlier than expected. The decline in net income primarily came from our Automotive OEM division. At 2.1%, growth here was significantly weaker than expected, compared with 6.5% in the prior year. The reasons included mounting pressure on prices in selected product areas, higher production costs, and burdens related to the alignment of our business portfolio and to changing customer demand patterns as well as future opportunities, especially in the field of electric mobility.
On a positive note, order intake in the Automotive OEM division increased by 13.3% to EUR 12.8 billion, representing a book-to-bill ratio of 1.4x compared to 1.3x in the prior year. Additionally, our Automotive Aftermarket business had a stabilizing effect with revenue growth of 2.2% to EUR 1.9 billion and an EBIT before special items of EUR 316 million, which corresponds to a margin of 17.0%.
What does this mean in terms of strategy? My colleagues on the Executive Board and I are convinced that we are on the right track strategically. Our strategy "Mobility for tomorrow", which we developed in 2016, is clear-cut and beginning to take effect. Eight strategic pillars point the way ahead. The past year has impressively demonstrated the importance of the second of these pillars in particular – "We are an automotive and industrial supplier". We are implementing our strategy in line with our program for the future, "Agenda 4 plus One", and the 20 initiatives it comprises. The program addresses the right topics and areas and is consistently being put into practice. By the end of 2018, we achieved an implementation rate of 55%, and we aim to achieve 75% by the end of 2019.
How will things continue in 2019? As members of the Executive Board of Schaeffler AG, we believe that the headwind will not ease off in the new year, but is rather more likely to strengthen. This is not only due to the challenging economic conditions and geopolitical situation, but is also a consequence of the significant technical and regulatory changes in some of our key industries worldwide, such as the automotive industry. The procurement markets and the increasing competition to recruit the best talent available are further aspects that should be mentioned in this context.
It will be important for us to employ the right measures in this increasingly difficult environment and successfully prepare the Schaeffler Group for the challenges of the future. Although 2018 fell short of expectations, we intend to remain on our course of profitable growth and continue to create sustainable value. This means that we must focus more than ever on our core competencies: technology, quality, and innovation.
For years now, we have been among the top 3 most innovative companies in Germany with regard to German patent applications, and we have expanded our technology portfolio by two smaller, but strategically very important acquisitions – Schaeffler Paravan and Elmotec Statomat – to provide future technologies in the areas of "Drive-by-Wire" and modern winding technology for electric motors. These two facts give us just as much confidence as our positive development in the field of quality does: In 2018, we continuously improved our internal quality key performance indicators for the eighth year in succession. This has been achieved not only thanks to a long-term approach, but is also based on the conviction that quality pays off – especially when it comes to customer business.
Is that enough? Of course not! We must not be content to remain at the status quo. Rather, we must look ahead to the future. In keeping with the title of this year's annual report, we are committed to staying in motion, especially with regard to our mindset. The transformation process will continue to challenge us. Not only our employees, but above all our managers worldwide, including, of course, the members of the Executive Board. After all, we are not only responsible for keeping risks under control and defending market positions, but also for developing new opportunities for the future.
We have set ourselves the goal of leading the Schaeffler Group, a family business rich in tradition, safely into the future. This is our mission and our joint aspiration. Even though the road currently seems rocky and a little bumpy at times, we feel better and better equipped for this. We are a strong team. We are on the right track. Our debt has been significantly reduced. The equity ratio is back to 25%. The investment grade ratings of three rating agencies confirm that we have a strong balance sheet and sufficient capital strength. That is a good thing.
But it will be even more important for us to remain agile, bold, and confident, seize opportunities in good time, and use our resources in a targeted manner.
My colleagues on the Board of Managing Directors and I are convinced that the Schaeffler Group will successfully handle the transformation process ahead. In the challenging environment that will certainly persist throughout 2019, we must remain confident and act flexibly. This means investing in the future on the one hand and optimizing our portfolio on the other. To this end, we launched the efficiency programs "RACE" for our Automotive OEM division and "FIT" for our Industrial division in 2018. Both programs will help us secure and improve our earnings quality and efficiency in the long term.
As a family business with a long tradition, our focus is not only on short-term financial figures, but above all on the long-term development of the Schaeffler Group. In the interest of our customers, our business partners, and our employees, we are working hard to shape our future as a strong automotive and industrial supplier. We are convinced that we will continue to be successful with our long-term focus, our consistent future orientation, and our innovative strength.
This is especially true because we know we can rely on the expertise and commitment of our approximately 92,500 employees worldwide. Our special thanks go out to them for their ongoing dedication to Schaeffler, even in difficult times.
On behalf of all members of the Board of Managing Directors and regional CEOs, I would also like to thank our family shareholders, the members of the Supervisory Board, and you for your trusting and constructive cooperation. You may rest assured that we will be staying in motion and will do everything in our power to lead your Schaeffler Group to long-term success.

Klaus Rosenfeld
Chief Executive Officer