Strategy and planning process
The Schaeffler Group goes through an annual strategy and planning process comprising three key components, (1) the Technology Dialog, (2) the Strategy Dialog, and (3) the Planning Dialog, that sequentially build on one another.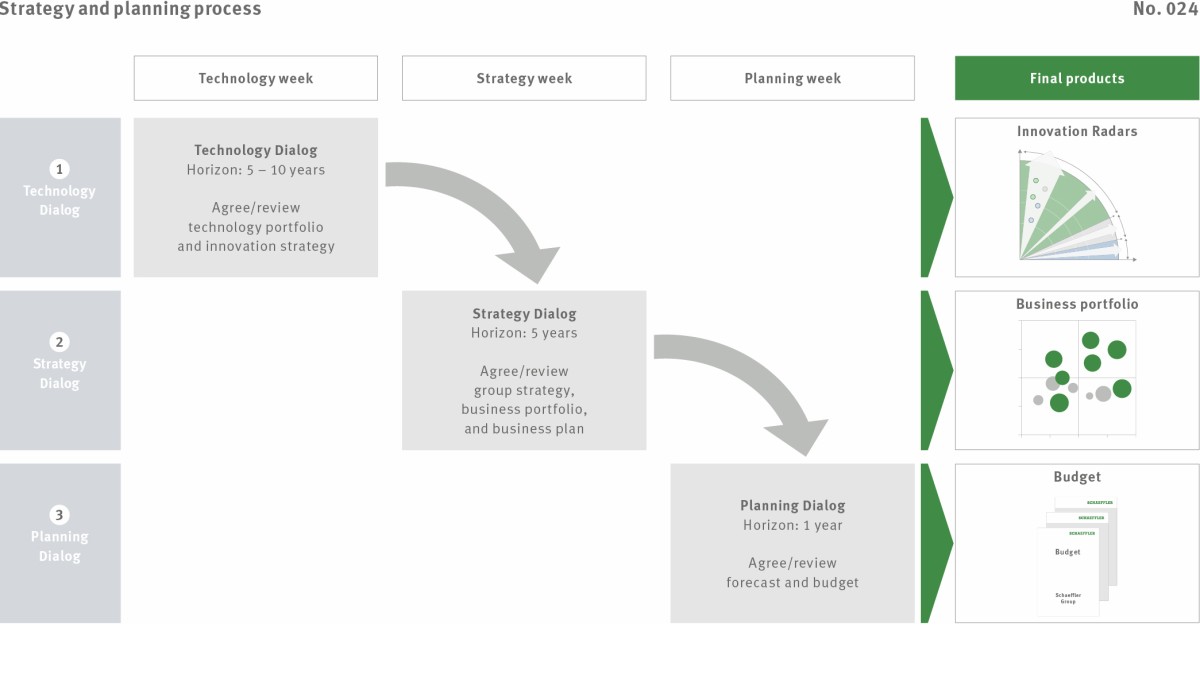 The starting point is the Technology Dialog that primarily deals with the megatrends and the resulting impact on technology and innovation. The time frame considered is 5 to 10 years into the future. Based on the information developed, an "Innovation Radar" is approved containing and prioritizing the initiatives aimed at securing the Schaeffler Group's profitable growth over a period of 5 to 10 years. However, this requires investing in intangible assets and property, plant and equipment and starting research and development activities early on. The initiatives approved in the Technology Dialog are further refined during preparation for the Strategy Dialog.
The Strategy Dialog takes place mid-year. It focuses on the Schaeffler Group's business strategy (including an indicative business plan) for the coming 5 years, the substrategies for the divisions with their strategic business units, the regions, and the functions. A detailed market analysis and an analysis of the initial internal position represent the starting point. Building on these, strategic initiatives are developed from which an indicative business plan can be derived. As part of the process, the various substrategies are coordinated with one another, prioritized, and added to where necessary. Strategic initiatives are uniformly evaluated and prioritized based on business cases showing their impact on key indicators. In this manner, each business case is presented consistently and uniformly, including the funds and investments it requires. This serves as the basis for the strategic allocation of capital and resources, which is the focus of the Strategy Dialog. Additionally, numerous initiatives are identified within the divisions, regions, and functions, and are implemented and followed up on within the relevant units as well.
The results of the Strategy Dialog form the starting point for deriving the top-down objectives for the coming budget year. In the subsequent bottom-up process, the objectives are defined in detail, validated on a bottom-up basis, and the overall plan adjusted if necessary. During the Planning Dialog in October, the Executive Board approves the detailed budget for the first planning year. The results of the strategy and planning process are presented and approved at the following meeting of Schaeffler AG's Supervisory Board. The results of the planning process represent the starting point for the key financial performance indicators discussed in the report on expected developments and become part of the agreed objectives of the Managing Directors and management.
Share Page