Employee structure and development
The Schaeffler Group employed an average of 92,232 employees (prior year: 88,697) in 2018. The number of employees at December 31, 2018, was 92,478 (prior year: 90,151), 2.6% above the prior year level.
The company recruited new personnel compared to December 31, 2017, primarily in production and production-related areas – mainly in the Greater China and Europe regions, especially in Eastern Europe.

The average period employees have been with the Schaeffler Group (tenure) amounted to 11.2 years in 2018 (prior year: 11.0). The average age of the Schaeffler Group's workforce was 39.9 years (prior year: 39.7).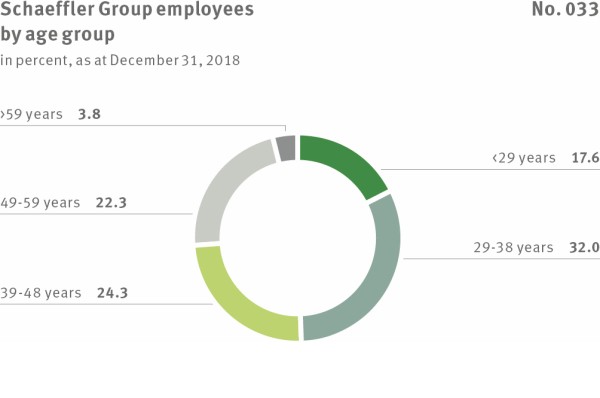 Workforce - structural data
31/12/2018
31/12/2017
Veränderung
Average age (years)
39.9
39.7
0.5 %
Average tenure (years)
11.2
11.0
1.8 %
Labor turnover rate (%)1)
4.8
3.9
0.9 %-pts.
Proportion of female employees (%)
22.0
21.7
0.3 %-pts.
Proportion of female managers (%) 2)
13.2
12.4
0.8 %-pts.
1) Initiated by employee.
2) Managers are defined as employees in a supervisory function.
Number of employees
31/12/2014
Proportion
31/12/2015
Proportion
31/12/2016
Proportion
31/12/2017
Proportion
31/12/2018
Proportion
Europe 1)
57,607
70.0 %
58,600
69.6 %
60,127
69.4 %
61,554
68.3 %
63,165
68.3 %
Americas
12,229
14.9 %
12,625
15.0 %
12,480
14.4 %
13,056
14.5 %
13,138
14.2 %
Greater China
9,741
11.8 %
10,216
12.1 %
11,255
13.0 %
12,537
13.9 %
12,976
14.0 %
Asia/Pazific
2,717
3.3 %
2,757
3.3 %
2,800
3.2 %
3,004
3.3 %
3,199
3.5 %
Schaeffler Group
82,294
100 %
84,198
100 %
86,662
100 %
90,151
100 %
92,478
100 %
1) Incl. employees of the corporate head office.
As strategic workforce planning has to take into account new requirements and skills early on, supporting employees and helping them gain additional qualifications is key to the Schaeffler Group.
3,648 classroom training sessions (prior year: 3,514) with an enrollment of 31.874 (prior year: 30,646) were held in Germany in 2018.
In addition, 95 different e learning courses were offered to staff with worldwide enrollment of 65,580 (prior year: 97 e-learning courses offered; 15,593 enrolled). As in the prior year, these courses included mandatory e-learning courses on specific new issues.
With the expansion of its online training program, the Schaeffler Group follows the trend toward making continuing education courses available to employees anytime anywhere.
Of particular note are the national and international management and leadership programs. The programs provide training in specific intercultural management skills as well as company-specific information on strategy development, making them pivotal in achieving medium- and long-term business objectives.
In 2018, a new training landscape was laid out for managers to support the changes in the leadership culture based on the Leadership Essentials. This program landscape is structured sequentially and offers a global framework for all regions. A significant offering in 2018 was the "Leadership reflections" training session designed to offer managers worldwide the option of addressing how the Leadership Essentials are applied on a day-to-day basis. It is currently being rolled out especially extensively in the Europe and Greater China regions. Another important component is an e learning program that was developed and will be available worldwide starting in 2019.
Employee qualification and continuing education
Number in Germany
31/12/2018
31/12/2017
Change
Classroom training sessions
3,648
3,514
3.8 %
Enrollments - classroom training
sessions
31,874
30,646
4.0 %
E-learning courses
95
97
-2.1 %
Enrollments - e-learning courses
65,580
15,593
> 100 %
Specialist and project career path
As a company with operations worldwide, the Schaeffler Group not only requires line managers, but it also needs especially highly motivated and qualified specialists as well as project managers who combine extensive technical expertise and key know-how with outstanding project management skills.
The specialist and project career path with its global standards, career stages, and requirements offers specialists and project managers within the Schaeffler Group a framework for following their strengths and interests in developing and establishing themselves in a career path.
Supporting new talents
Attracting and training new talents in all areas is essential to ensuring the company's long-term success. 3,275 trainees (or 3.5% of the Schaeffler Group's workforce) were pursuing an apprenticeship at the Schaeffler Group (prior year: 3,185 or 3.5% of the workforce) as at the end of 2018. These future specialists are trained in a total of 20 specific jobs requiring formal training at various Schaeffler Group locations. In addition to technical qualifications and Schaeffler-specific know-how, the Schaeffler Group's training particularly values methodological, social, and personal skills. Training at the Schaeffler Group is aimed at teaching young employees to think and act independently, promoting their creativity, and strengthening their environmental awareness and sense of responsibility. Since 2016, all full-time vocational trainers have received extensive continuing education, ranging from developing their personal skills through to using modern media and methods, in order to ensure that the company's vocational training is up to future challenges such as Digitalization and Industry 4.0.
Cooperative education programs ("Duales Studium") play another important role in attracting new talents in Germany. The Schaeffler Group offers various types of these programs of academic studies, such as a "Duales Studium" in cooperation with colleges offering this type of cooperative education program ("Duale Hochschulen") or a "Two-in-One" program in cooperation with universities of applied sciences in Germany. A total of 182 students were enrolled in the "Duales Studium" and 159 in "Two-in-One" bachelor programs in 2018. The company also offers support to high-performing students earning a master's degree beyond that.
In addition, the Schaeffler Group offers special trainee programs to university graduates that have demonstrated above-average performance and commitment, enabling them to gain a comprehensive overview of the group and its functional areas by doing rotations over a period of 12 to 24 months. The accompanying development measures and a mentor ideally prepare these trainees to take on positions carrying responsibility after they have completed the program. 51 young talents participated in trainee programs in Germany during the year.
Share Page