Globalization, urbanization, digitalization, and changing environmental awareness are resulting in changing market requirements. Balancing the desire for individual mobility in times of a surging population with the infrastructure and the environment represents a fundamental challenge. This challenge creates enormous potential for businesses developing and offering mobility solutions. New EcoSystems open up growth areas in many places, but also require the development of comprehensive expertise ranging from energy generation through to energy supply and energy consumption. Given the current high rate of change in the drive sector, accessing future potential requires a mindset and perspective that reflects these profound and very rapid changes.
In light of this, the Schaeffler Group sees its role in actively shaping innovative and sustainable technologies. In line with the concept of ambidexterity, Schaeffler relies on both advancing the proven and exploring the new. Protecting existing business fields and exploring new ones in this manner is aimed at profitable growth in areas with a promising future. In this context, the Schaeffler Group relies on innovative urban mobility concepts and solutions for eco-friendly drive systems while consistently advancing drive and transmission solutions based on an internal combustion engine as well as smart and sustainable bearing technology solutions.
See chapter group strategy and management for further detail.
In order to position the organization of the Technology function for current and future challenges, the structure of the Technology department was realigned effective January 1, 2019. The changes included integrating Materials Technology and Surface Technology into the Central Technology department. In addition, R&D Bearing was instituted within the Technology function in order to combine, at the corporate level, the basic development activities covering all aspects of rolling bearing technology. As a result, starting January 1, 2019, the Technology function includes Corporate R&D Management, Innovation & Central Technology, R&D Processes, Methods & Tools, Intellectual Property Rights, R&D Bearing, Information Technology, Strategic IT, Coordination Office Digitalization, as well as Special Projects Motor Sports.
An average of 7,956 R&D staff (prior year: 7,634) at 20 R&D centers (prior year: 18) and additional R&D locations in a total of 24 countries represent the basis for the company's long-term innovative ability, which was further strengthened by evolving the R&D locations Erlangen and Nuremberg into F&E centers. Its 2,383 patent registrations filed with the German Patent and Trademark Office, which made the Schaeffler Group the second most innovative company for the fifth consecutive year in 2017, are evidence of the company's innovative ability. In addition, more than 3,452 inventions were reported internally in 2018 (prior year: 3,294). The Schaeffler Group relies on continuous innovation and, based on that, expects to once again rank highly among the most innovative companies in Germany in 2018.
Research and development expenses
Research and development expenses (in € millions)
622
673
751
846
847
Research and development expenses
5.1 %
5.1 %
5.6 %
6.0 %
5.9%
Number of research and development staff2)
6,387
6,651
7,121
7,634
7,956
1) The Schaeffler Group has initially applied the new standard IFRS 15 effective January 1, 2018, which requires certain development services to be included in gross profit, among other things. The company has used the modified retrospective approach to transition to the new requirements. Under this approach, prior year amounts are not adjusted. See Note 1.5 "New accounting pronouncements" to the consolidated financial statements for further details.
2) Averages.
Corporate research and development: The company's corporate technology, which is incremental to that of the divisions, develops long-term sustainable customer- and market-specific technical solutions and promotes interdisciplinary knowledge transfer, following a systematic process that is aligned along the product lifecycle and speeds up development. The technical knowledge required to explore technologies is gathered, collected, and combined in the Schaeffler Group's competence centers, ensuring significant technical depth of product development as well as quick and valid decisions.
One focus of the corporate research and development activities is on covering the entire energy chain – from energy generation, mainly from renewable energy sources, through to the storage and consumption of energy. The global remodeling of the energy chain in the coming decades will be characterized by the pervasiveness of renewable energy sources in energy generation. The extent to which their natural fluctuations can be compensated for by conventional regulation and by expanding existing power grids is limited. Therefore, energy storage will play an increasingly important role. There will be a particular need for scalable energy storage facilities that are financially viable and eco-friendly.
In light of this, the Schaeffler Group has entered into a development cooperation with CMBlu Projekt AG to develop organic redox flow batteries to marketability and manufacture them. This new and unique technology is largely based on renewable resources and can be scaled to nearly any size. Hence, the technology has the potential to play an essential role in shaping the charging infrastructure in the field of electric mobility as well as in establishing a sustainable energy infrastructure.
Along with the energy chain, a further focus of the corporate development activities is on urban mobility concepts. Increasing urbanization and the resulting infrastructural challenges, such as traffic jams and limited availability of parking, as well as a changed legal environment for pollutant and exhaust emissions are changing the way people move about the city and the way they are supplied with everyday consumer goods. In this context, autonomous and electrified mobility concepts are going to take on an essential role in the future.
The Schaeffler Mover – the technological demonstrator for future autonomous vehicles – presented by the Schaeffler Group during the year is the technological basis for one of these urban mobility concepts. The drive and chassis components are installed in a compact assembly unit, the Schaeffler Intelligent Corner Module. The system is installed in all four wheels and includes, along with the wheel hub motor, the suspension (including springs) as well as the actuator for the electromechanical steering. The wheel module is steered by an electromechanical "Steer-by-Wire"-System that facilitates vehicle steering by electronic means – a key technology for autonomous driving, since autonomous vehicles do not have a mechanical steering column. In order to further develop the Mover concepts, the Schaeffler Group established the Schaeffler Paravan Technologie GmbH & Co. KG joint venture, whose objectives include further expanding the company's systems expertise in this rapidly developing market segment. In addition, in January 2019, the company announced a technology partnership with TRE Vehicle Dynamics GmbH aimed at advancing the "rolling chassis" of the Schaeffler Mover.
Intermodal traffic in areas where space is at a premium and the ability to change smoothly from one means of transport to another is increasingly gaining importance for dealing with the growing volume of traffic in urban centers. Schaeffler offers an innovative solution in the field of micro-mobility, the Bio-Hybrid concept, which is a four-wheel roofed pedelec somewhere between a pedelec and a small electric vehicle in range that offers nearly emission-free mobility. In addition to the passenger version, Schaeffler presented the first cargo version of the "Bio-Hybrid" for use in urban deliveries during the year. These activities have been spun-off and concentrated in Bio-Hybrid GmbH with the aim of industrializing the Bio-Hybrid.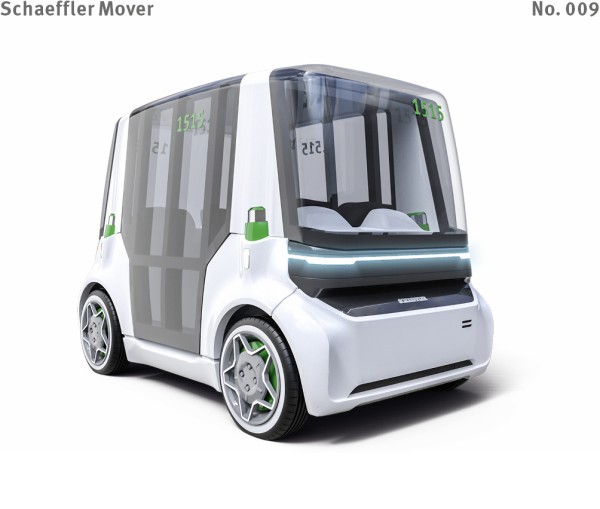 Collaborations: The corporate R&D activities are founded on a global innovation network that contributes significantly to the Schaeffler Group's technological leadership. Collaborations with universities in the form of the "Schaeffler Hub for Advanced Research" (SHARE) initiative under the unique "Company on Campus" concept ensure the consistent development of future-oriented technologies. SHARE at KIT (Karlsruhe Institute for Technology), which was founded in 2013, concentrates on electric mobility with a special focus on automated driving. In the publicly subsidized "Omnisteer" and "SmartLoad" projects, research teams are working on new steering concepts for autonomous vehicles and on the resilience of actuators. SHARE at FAU (Friedrich-Alexander University of Erlangen-Nuremberg) focuses its research on Digitalization along the entire value chain, while SHARE at NTU (Nanyang Technological University, Singapore) prioritizes personal urban mobility, and SHARE at SWJTU (Southwest Jiatong University, Chengdu) (chassis) solutions for high-speed trains. Along with numerous other collaborations with universities, the Schaeffler Group also has a strategic partnership with Fraunhofer-Gesellschaft that has been in place since 2017.
Interconnection with start-up companies adds to this innovation network. The innovative strength, rapid speed, and flexibility of start-ups are combined with Schaeffler's experience in order to efficiently develop ideas to the point of marketability. The annual Schaeffler Venture Forum, where selected start-ups present and discuss new ideas, is a key element of Schaeffler's start-up concept. Schaeffler extensively exchanges ideas with start-ups via its office in Silicon Valley and collaborations with the Munich Network, Plug-and-Play, as well as the start-up campus Factory Berlin and the tech incubator ZOLLHOF in Nuremberg.
R&D in the Automotive OEM division
The Schaeffler Group estimates that in 2030, 30% of all newly produced cars will be powered by an all-electric drive train, while a further 40% of all new vehicles will be equipped with a hybrid drive and another 30% with an internal combustion engine. The many different types of energy storage and the current diversity in drive units requires a high level of drive train and vehicle expertise in order to develop technologically and commercially efficient solutions. In order to live up to this challenge, 350 new jobs are expected to be created at the Automotive OEM division's headquarters in Buehl, mainly in the field of E-Mobility.
The degree of vertical integration is continually being increased and the product portfolio expanded in order to establish Schaeffler as an E-Mobility systems supplier in the long run. One priority of these activities are electric motors. The acquisition of Compact Dynamics GmbH brought the integration of development expertise regarding highly innovative electric drives. Combining it with the expertise in high-volume, top-quality manufacturing further boosts the development of electric motors. The acquisition of Elmotec Statomat, a manufacturer of production machinery for the construction of electric motors, which closed on January 31, 2019, is another consistent step in this direction.
In the field of all-electric vehicles, the Schaeffler Group can tap into the know-how gained from the FIA Formula E Championship. Winning the team title in 2018 crowned four successful years in Formula E and is evidence of outstanding expertise regarding the electricdrive train. The technology transfer from motor racing to drive concepts was also accelerated by the "Schaeffler 4ePerformance" concept vehicle. The four integrated Formula E motors of this all-electric vehicle deliver a total power output of 880 kW (1,200 hp).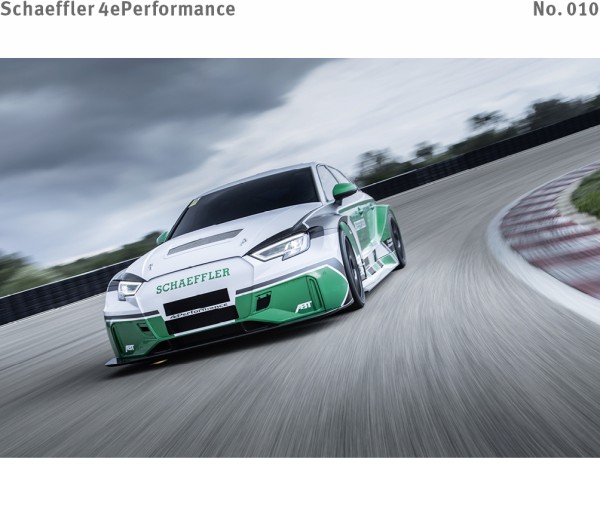 Schaeffler's experience with motor sports contributes to current developments such as electric axle systems, which entered volume production during the year. A package customized in terms of weight, space requirements, and cost to meet customer-specific requirements for function, maximum speed, and driving dynamics can be developed using a flexible electric axle configurator. The restricted design envelope of coaxial drive architectures places high demands on packaging. The highly integrated stepped planetary gear set combined with an innovative spur gear differential developed by Schaeffler offers a solution to this issue. The planetary gear design concept can also be applied to parallel axis drives, lowering development times and cost. Schaeffler also presented a particularly compact and light-weight single-speed transmission concept with a parallel axis design. The modular systems for coaxial and parallel axis designs both enable a wide range of space requirements and transmission ratios to be covered while utilizing a high number of identical parts.
One example of how transmission actuators are used in electric vehicles is the electric axle actuator (EAA) that entered volume production during the year. As a systems partner, Schaeffler not only provides the hardware but also develops the software to ensure optimum performance within the entire system. Schaeffler's integrated parking lock actuator (PLA) was developed as an efficient actuation module for the parking lock function in electric vehicles. Since this actuator is light-weight and requires little installation space, it can be integrated into electric axle systems or dedicated hybrid transmissions in an optimum manner.
A large share of the vehicle population is assumed to be hybrid-driven in the future. Schaeffler expects particularly strong market growth for mild-hybrid vehicles that use a 48-volt on-board electric subsystem. P0 drives – in which the electric motor is connected to the crankshaft of the internal combustion engine via a belt – make it possible to recuperate much of the kinetic energy that is otherwise lost when braking. The arrangement of the 48-volt electric motor on the crankshaft as a P1 hybrid module provides a direct link to the internal combustion engine speed.
Recuperation and fuel-saving driving strategies are even more efficient with a P2 hybrid module on a 48-volt basis that is fitted between the internal combustion engine and the transmission. For front-transverse drives with a small axial design envelope, Schaeffler has developed a version with an arrangement parallel to the axle that acts on the transmission input shaft via a belt or chain drive. In addition to recuperating braking energy, this system permits electric driving at low speeds, such as in traffic jams and while parking and maneuvering. Furthermore, Schaeffler's 48-volt hybrid module assists in accelerating as well as in fuel-saving sailing, which means that the vehicle rolls freely with the internal combustion engine switched off and decoupled from the drive train. An integrated automated clutch provides a high level of comfort when restarting the engine by helping the engine rev up immediately upon starting.
Along with electrified drives, the Schaeffler Group continues to work on increasing the efficiency of internal combustion engines in order to further reduce harmful emissions. For instance, Schaeffler has developed switchable roller finger followers for cylinder deactivation in three-cylinder engines, which will be integrated into volume-production vehicles. Furthermore, Schaeffler has carried out tests on a test engine with rolling cylinder activation. This design allows the specific fuel consumption at low engine speeds and engine loads to be reduced without adversely affecting the engine's emission behavior. Technologies for increased efficiency in transmission systems also play an important role. To reduce torsional vibrations in the drive train during active sailing, Schaeffler has developed a new couple pendulum, in which the dampers support each other via springs in a circumferential direction. In addition, the company developed a new design for transmission bearings with particularly low friction, that is called "angular roller units" (ARU) and facilitates particularly low friction, thereby further increasing the efficiency of conventional drive trains.
R&D in the Automotive Aftermarket division
The R&D activities of the Automotive Aftermarket division focus on the specific requirements of customers in the global replacement parts business. Thanks to the many years of experience with original equipment, the Automotive Aftermarket division possesses comprehensive systems know-how. Based on that, product specialists consisting of engineers and master mechanics develop intelligent and high-quality repair solutions allowing repair shops to perform professional repairs.
Repair solutions presented during the year included the LuK RepSet CVT, a comprehensive repair solution for the CVT chain. The related dampers and dual-mass flywheels complete this new portfolio for continuously-variable transmissions. In addition, Schaeffler presented the concept of the "repair shop of tomorrow" at the major trade fair Automechanika in Frankfurt. Visitors used mixed and augmented reality applications to take a look at the digitized future of the Automotive Aftermarket. Experts demonstrated how, for instance, a dual-mass flywheel and a timing chain can be replaced in real time using interactive support, facilitating even more efficient repair processes.
R&D in the Industrial division
The megatrend digitalization is a key driver of development in the Industrial division. Within the organizational unit "Industry 4.0", the division presses ahead with intelligent networks connecting product development, production, logistics, customers, and suppliers. Its technological basis are smart, interconnected systems that will maximize the possibilities for largely autonomous production and optimum plant operation in the future. Going forward, the company will advance this expertise using internal processes, use it for the benefit of these processes, and offer it to its customers while maintaining its "classic" components business.
In this context, the Schaeffler Group offers specialized solution packages that increase machine and equipment availability and improve processes. Schaeffler's Smart EcoSystem forms the basis for integrating smart components and systems, proven visualization and analysis tools, and digital services. The company presented several digital solutions for selected industry sectors at this year's Hannover Messe.
As an example, a connection to the Schaeffler cloud and the "Condition Analyzer" digital service helps improve plant monitoring. The Schaeffler Group's many years of bearing and vibration analysis expertise has been incorporated directly into the underlying algorithms. Mechanical failures – of electric motors for instance – are reliably prevented by using pattern detection. For the service provider, the transition to the digital service means fewer on-site visits to the customer, planning of maintenance work well in advance, and, therefore, increased machine efficiency and availability to the customer.
Condition monitoring also has applications in other places along the energy chain. For instance, Schaeffler is helping to ensure reliable, fault-free operation at waterworks using a complete solution that comprises both monitoring and lubrication of the machines that are critical to ensuring a secure supply. One example of this is a water supply association employing a complete solution that consists of a SmartQB condition monitoring system and a Concept8 lubricator to prevent pump system failure. The preconfigured SmartQB detects irregularities in the machines' vibration behavior, identifies potential causes, and then reports on the findings. The Concept8 ensures requirements-based lubrication of the pumps' bearings. This complete Schaeffler solution permits maintenance work to be scheduled well in advance and maintenance processes to be improved.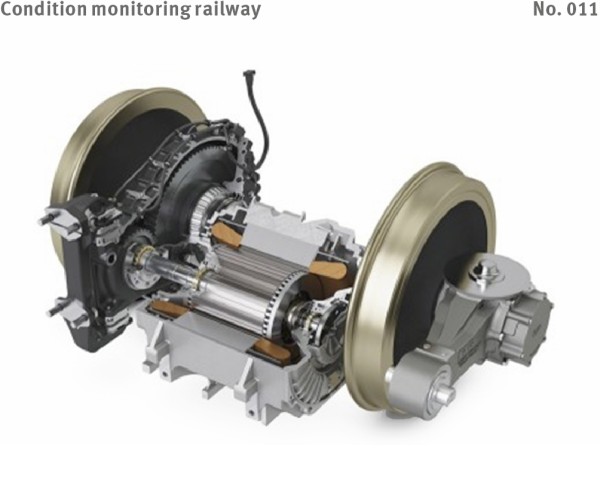 The Condition Analyzer System, which was designed to be universal, can also be applied in the railway environment. The digitalized monitoring of motorized and trailer bogies based on solid-borne vibrations and other sensors holds immense potential for making the operation of passenger trains even safer and more cost-effective. Schaeffler can offer a great deal of added value here thanks to its knowledge of the application-specific behavior of rolling bearings combined with decades of expertise in the field of vibration analysis gathered from a range of different industries. This expertise enables Schaeffler to generate data analyses that provide high-quality information and can be delivered via a range of digital interfaces. As a result, the operator no longer needs to either have specific knowledge of vibration or perform manual evaluations.
The systems are also used and advanced internally. One example of this is the intelligent maintenance system for the operationally critical machinery the Schaeffler Group has implemented at its "European Distribution Center" (EDC) Central in Kitzingen. SmartCheck systems continuously monitor the lift and travel drives in the storage and retrieval systems, lifting stations, and spiral conveyors. Concept8 devices provide autonomous and requirements-based lubrication to the pallet conveyor and in-floor conveyor systems. Autonomous subsystems reduce costly manual maintenance tasks and the risk of maintenance measures being carried out incorrectly. This predictive maintenance scheme was elected winner of this year's "LOGISTRA best practice: Innovation" vote by logistics magazine LOGISTRA.
In addition to the activities around the development focus Industry 4.0, the Industrial division's R&D activities also concentrate on advancing its portfolio of high-performance components. During the year, this involved, among other things, developing the asymmetric FAG spherical roller bearings for main rotor bearing supports into a complete range that meets the X-life standard. Improved load distribution corresponding to the load profile typical for rotor bearing supports allows the width of the bearing to be reduced. Thanks to this bearing design, the equipment manufacturer can thus downsize the drive train while maintaining the same performance capability. Further performance enhancements can be achieved through the use of coating systems like Durotect B, which increases robustness, and Triondur, which provides special wear protection.
For machine tool spindles, Schaeffler has developed bearings made from a high-performance material named Vacrodur and advanced them to application in volume production. The material, which is manufactured using powder-metallurgic methods, is extremely hard and tough, increasing wear resistance many times over. This enables the spindle manufacturer or the machine operator to significantly extend the application's maintenance intervals, thus reducing its lifecycle costs. The higher fatigue strength of this material further increases rolling bearing strength. Bearings made from this material are ideally suited especially to high-performance aluminum machining required in applications like manufacturing aerospace components.
The digitalization megatrend poses new challenges, but also offers enormous opportunities. Digitalization is changing existing processes: in research and development, purchasing, manufacturing, logistics, distribution, as well as in the human resources and finance functions. Therefore, the Schaeffler Group has implemented the "Digital Agenda" as one of the 20 initiatives of its program for the future, the "Agenda 4 plus One". The groupwide and cross-functional implementation of the group's Digitalization projects are centrally managed by the "Coordination Office Digitalization".
An actual application of this is the digitalization of the group's supply chain management. For Schaeffler, digitalizing the supply chain means constantly increasing transparency of Schaeffler's value chains. This transparency ranges from tracking products through to warning messages regarding imminent delays in the supply chain and data-driven support for decision-makers. For instance, Schaeffler has aggregated and analyzed global value chain data in order to gain a global view of relationships and dependencies within end-to-end value streams. This approach provides transparency regarding product dwell time, cost, and interrelationships of value streams based on Big Data analytics. It has already been piloted successfully and will be rolled out gradually along the global value chains.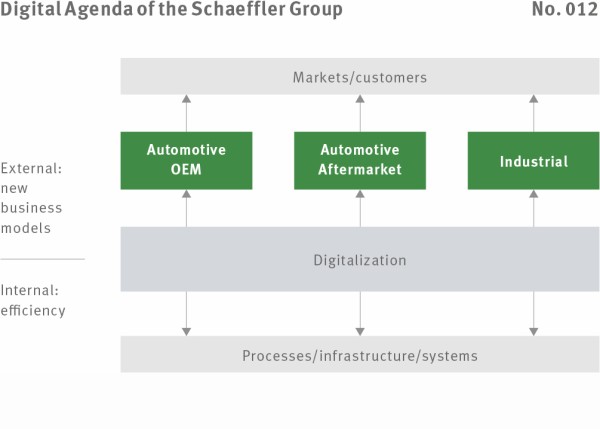 The Digital Agenda is oriented toward the benefit of its users – both internal partners and external customers. To improve internal processes and generate additional benefits for external customers, existing business models are expanded and new, digital business models are developed and implemented. To this end, the Schaeffler Group is adding sensors, actuators, and controllers, including the relevant software, to its components. They will facilitate collecting and processing data on machine or plant condition and behavior in the future. This data will be used in data analytics and machine learning to generate performance improvements throughout the company. For instance, artificially intelligent models are using sensor data to learn patterns that indicate the amount of tool wear. These models not only recognize known patterns, but also apply what they have learned to new behaviors and machines, making them very versatile.
The technological basis for these data analytics and machine learning methods is the cloud-based Schaeffler Data & Analytics Platform that can be used worldwide. It both contains the central Schaeffler Data Lake that facilitates efficient storage and highly parallel processing of nearly unlimited amounts of data and provides the newest state-of-the-art tools for company-wide data integration. This connects data silos distributed around the world within the Schaeffler Group and external business partners' data sources, creating a uniform, harmonized information repository. Thus, the Schaeffler Big Data & Analytics Platform provides the basis for data-intensive analyses, artificially intelligent solutions involving extensive calculations, and for new data-driven products such as the Digital Twin in the Industry 4.0 environment. During the year, the platform started operating initial pilot applications and will go live for business applications in 2019. The platform is also available to Schaeffler's regions worldwide. Where necessary for regulatory or technological reasons, regional data and analytics platforms can be set up using the same architecture and technology designs and integrated into the global Schaeffler Big Data & Analytics Platform.
The technological basis for these types of applications is provided by Schaeffler's IT department. The Big Data & Analytics components are part of a hybrid multi-cloud solution. Modern and differentiating IT applications are created using it as a basis; they can be efficiently linked with other internal and external systems via an ecosystem of interfaces and offer a better user experience. Implementation of Schaeffler's IT strategy is the objective of the "IT 2020" initiative. It is designed to help actively shape the Schaeffler Group's transformation into a digitized company using the relevant IT technologies. Along with advancing the Schaeffler Cloud Platform, proven technologies and IT products from the market are being integrated into Schaeffler's IT landscape, starting with cloud solutions and dedicated data processing centers through to edge computing close to the physical world in factories and distribution centers. In the coming years, one of the primary projects will be the introduction of SAP S/4 HANA as the company's future ERP system. It will involve gradually and sustainably enhancing the way Schaeffler's business processes are mapped to the IT systems and accelerating process execution. Cloud-based applications will be used for certain processes, complementing SAP S/4 HANA.
The transformation of the entire company – essential to being well-positioned for digital change – is performed using the "Agenda 4 plus One". Restructuring the process and IT landscape represents one of the drivers of this transformation. This has involved considerably expanding the use of agile methods and integrating these methods into the underlying IT processes, which are currently being updated and oriented toward the future as part of the "Process Excellence" initiative. A key cornerstone of these activities is establishing an agile IT organization that designs, implements, and operates the IT of tomorrow in close collaboration with the divisions, functions, and regions.
Share Page