The multi-dimensional structure of the Schaeffler Group includes the functional management level with five functions: (1) CEO Functions, (2) Technology, (3) Operations, Supply Chain Management & Purchasing, (4) Finance, and (5) Human Resources.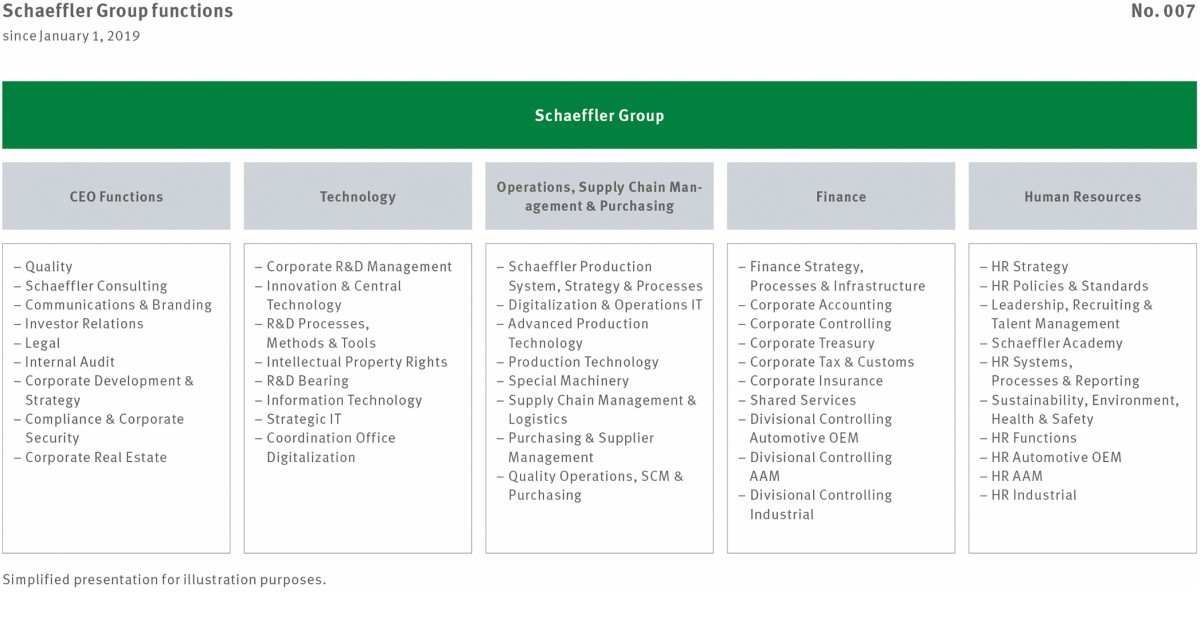 The functions are essential to securing the Schaeffler Group's long-term competitiveness and innovative ability. In accordance with the company's commitment to top quality, outstanding technology, and exceptionally innovative spirit, the two functions Technology (particularly Research and Development, R&D) and Operations, Supply Chain Management & Purchasing are discussed in more detail below.
Following the realignment of the Industrial division effective January 1, 2017, and the set-up of the Automotive Aftermarket division as the Schaeffler Group's third division as at January 1, 2018, the company decided to disband its "Bearing & Components Technologies" (BCT) unit, which had previously acted as an internal supplier. Under this reorganization, the plants previously assigned to BCT were integrated into the Automotive OEM and Industrial divisions. The reorganization has eliminated duplicate structures, has brought the plants closer to the markets, and has established consistent responsibilities for the business and earnings worldwide. On this basis, it was also agreed that large plants currently producing for both divisions will be divided up and aggregated in "campus locations". A key feature of these campus locations will be the existence of several plants at one location with shared use of support functions such as human resources, logistics, or location planning functions.
As a first step toward implementing the change, the BCT organization was transferred to a starting organization effective July 1, 2018, that has been replaced by the target organization implemented effective January 1, 2019.
Along with integrating BCT into the divisions, the Executive Board has decided to create new "Operations & Supply Chain Management" departments in the four regions Europe, Americas, Greater China, and Asia/Pacific, each managed by a Regional COO, similar to the approach taken by the three divisions. For this purpose, the "Operations" and "Logistics" units in the regions, which were previously managed separately, were combined effective July 1, 2018. This will further harmonize and align the organizational and leadership structure at the group's top level of management.