Acquisition of Elmotec Statomat expands manufacturing expertise in the field of electric motors and opens up further potential for growth
Joint venture Schaeffler Paravan Technologie GmbH & Co. KG established by Schaeffler advances and markets the Space Drive "Drive-by-Wire"-Technology
EUR 60 m investment in new Automotive OEM headquarters in Buehl planned: providing a boost for electric mobility activities - 350 new jobs expected to be created
Customers and products
The Automotive OEM division partners with all major automobile manufacturers in developing and manufacturing system solutions for the complex challenges of the automotive future. Its global key account management function and development collaborations ensure that the Automotive OEM division remains close to its customers. It is working on numerous technologies to make cars cleaner and more fuel-efficient. The division's innovative ideas, creative engineering, and comprehensive manufacturing expertise enable it to develop solutions for drive trains based on an internal combustion engine as well as for hybrid and all-electric designs. In 2018, the division presented these solutions on various occasions including to a total of 1,500 customers at the 11th Schaeffler Symposium held in Baden-Baden, Detroit, Tokyo, and Shanghai.
Since January 1, 2018, all products and system solutions for hybrid and all-electric vehicles are managed centrally through the new E-Mobility business division. As a result, the Automotive OEM division is subdivided into the following four business divisions (BD), which in turn comprise several business units and product lines:
The Engine Systems BD develops and provides components and systems for engines.These precision products are key to helping engines consume less fuel and comply with increasingly stringent emissions standards while also increasing driving comfort and driving dynamics and extending maintenance intervals and service life. The portfolio includes products such as valve-lash adjustment elements, variable valve train systems, camshaft phasing systems, and the thermal management module.
The Transmission Systems BD develops and provides innovative components and systems for transmissions. More and more, the emphasis in this business division is shifting toward automatic transmissions which are replacing the conventional manual transmission. Applications for electrified drive concepts round out the range of transmissions for the future. The BD also possesses extensive expertise in the field of torsional vibration dampers.
The E-Mobility BD offers its customers solutions for the entire spectrum of electrification options – from 48-volt mild hybrids and plug-in hybrids through to all-electric vehicles. Its wide-ranging know-how makes the Automotive OEM division an expert partner to its customers. The product portfolio includes hybrid modules, electric axle drives, electromechanical actuators, and in the future electric motors and electric solutions for the entire drive train, as well.
The Chassis Systems BD develops and provides components and systems for chassis. Its wide variety of products ranges from wheel bearings through to mechatronic systems for active chassis and will also include steering systems in the future.
Sales markets
The Automotive OEM division acts as a global supplier to the automotive sector. Demand for the Automotive OEM division's products is primarily influenced by, along with global economic conditions, the increasing demands placed on the automobile industry, for instance to reduce fuel consumption and emissions. These economic factors subject global automobile production, a key indicator of trends in the Automotive OEM division's relevant market, to a certain degree of short-term and regional volatility. In the long-term, research institute IHS Markit anticipates annual market growth of 1 to 2%. It is currently expected that a market for all-electric vehicles will emerge mainly in China and Europe as well as generally in urban areas, with China increasingly setting global market trends in electric mobility.
Key growth drivers
The automotive sector is currently at a turning point. Increasing demands on automobile manufacturers to reduce fuel consumption and emissions as well as new forms of mobility make new drive concepts and innovative business models essential. In the coming years, the sector will change more extensively than in the 130 years since the automobile was invented. Efficient internal combustion engines, automated transmissions, diversity in electric mobility, autonomous driving, interconnectedness and new mobility solutions will be the main drivers of future growth. The need to lower harmful emissions results primarily from legal requirements: More realistic emissions test procedures such as the WLTP cycle introduced in September 2018 have implicitly further increased CO2 reduction targets. In addition, the European Union is planning to reduce the fleet limit of 95 grams of CO2 per kilometer that will come into effect in 2021 by a further 37.5% by 2030. Many vehicle manufacturers are adding models with electric drives to their product range in order to reduce their fleet average to the required CO2 target.
However, given the current primary energy structure, restricted ranges of current electric cars, and limited charging infrastructure, demand for internal combustion engines is expected to remain high in the medium term. Therefore, further advancing the drive train based on an internal combustion engine is essential to meeting future CO2 targets. Furthermore, the conventional internal combustion engine continues to play a significant role. By 2030, 70% of all newly registered cars will still be equipped with an internal combustion engine, according to a scenario entitled "Schaeffler Vision Powertrain" that was developed based on market analyses. This includes 30% driven exclusively by an internal combustion engine and 40% hybrid vehicles powered by an electric motor combined with an internal combustion engine. The remaining 30% of all cars are forecasted to use all-electric drive systems.
A further important automotive sector market will be autonomous driving, which, along with increased driving comfort, will also improve road safety. Experts refer to five levels of vehicle automation: Starting with level 0 with "driver only" – the driver steers and drives completely without support from driver assistance systems – through to level 5, in which the vehicle is completely driverless, i.e. moves autonomously. While the application of level 4, "fully automated driving", and level 5, "autonomous driving", remains in the future, driver assistance systems representing levels 1, "assisted driving", 2, "partly automated driving", and 3, "highly automated driving", are increasingly entering the market already today. A scenario developed by Schaeffler and entitled "Schaeffler Vision Chassis" indicates that by 2035, approximately 14% of passenger cars and light commercial vehicles will drive in a highly automated manner, 18% in a fully automated manner, and 9% autonomously.
Drive systems with reduced fuel consumption and emissions and electrification: A comprehensive perspective on the drive train and the interaction of the electric machine, the internal combustion engine, the transmission, and the related infrastructure is essential to developing commercially successful solutions for a wide range of mobility requirements. Based on the degree of electrification – "micro", "mild", "plug-in hybrid", or all-electric vehicles – the Automotive OEM division develops new solutions in the engine, transmission, and electric drive subsystems within what is known as a "Powertrain Matrix". These solutions include electromechanical actuators as well as 48-volt hybrid technologies and efficient electric drives.
The need to meet legal targets renders it necessary to make the entire drive train system as well as its modules and components more efficient and to reduce the emissions they produce. This also includes adding "mild" 48-volt electrification to the drive train based on an internal combustion engine. The Automotive OEM division expects particularly strong market growth for mild-hybrid vehicles that use a 48-volt on-board electric subsystem. P0 drives – in which the electric motor is connected to the crankshaft of the internal combustion engine via a belt – alone are expected to represent a market volume of approximately 20 million units in 2030.
Advancing the internal combustion engine and the related transmission will continue to be essential to meeting the CO2 targets. With its switchable roller finger follower for cylinder deactivation in three-cylinder engines, electric clutch systems, the electric camshaft phasing unit, the fully variable valve control system UniAir, and the second-generation thermal management module, the Automotive OEM division offers a number of products ready for volume production that are geared to making the conventional drive train as eco-friendly as possible.
Double-clutch transmissions have become established in recent years since they meet the high requirements regarding efficiency and comfort while providing additional driving pleasure. Its important transmission components such as the wet and dry double clutches and a wide range of actuators have ensured the Automotive OEM division's top market position in years past. Double-clutch transmissions offer significant potential for increasing content per vehicle in the field of electrification as well.
The Automotive OEM division is expanding its product portfolio with a view toward future electric and hybrid drives. These especially include compact hybrid modules with an integrated triple clutch as well as a new generation of electric axle drives, wheel hub motors, and entire transmissions optimized specifically for use in hybrids. The electric and electronic components for the various drive trains are based on a shared platform. Furthermore, for the position between the motor and the transmission ("P2 arrangement") alone, hybrid modules are offered in combination with torque converters, continuously variable transmissions (CVT), and double clutches, for example.
The acquisition of Elmotec Statomat Holding GmbH ("Elmotec Statomat" below) represents a further step in the implementation of the electric mobility strategy. Elmotec Statomat is one of the world's leading manufacturers of production machinery for the high-volume construction of electric motors and possesses unique expertise in the field of winding technology. This acquisition will mainly expand the Automotive OEM division's manufacturing expertise and thus open up further potential for growth in the production of electric motors and stator production facilities. Schaeffler had previously acquired Compact Dynamics GmbH, a development specialist in the field of innovative electric drive concepts, at the end of 2016. The acquisition of Elmotec Statomat, which closed on January 31, 2019, has expanded this expertise by adding further know-how regarding high-volume production of stators for electric motors.
Autonomous driving, shared mobility, und interconnectedness: For the Automotive OEM division, developing intelligent components and systems for interconnectedness and autonomous driving is a key growth driver. The division has established the joint venture Schaeffler Paravan Technologie GmbH & Co KG, gaining it access to a key technology for "autonomous driving" – a high-growth market of the future. Schaeffler Technologies AG & Co. KG has a 90% stake in the new company, which has acquired the Space Drive "Drive-by-Wire"-Technology from Paravan GmbH. Licensed use of this technology will enable the division to develop its Chassis Systems business division into a chassis systems integrator. Space Drive is the only system of its kind to be licensed for on-road use in multiple countries worldwide, while at the same time having the potential for technical and commercial viability in large-series automobile production.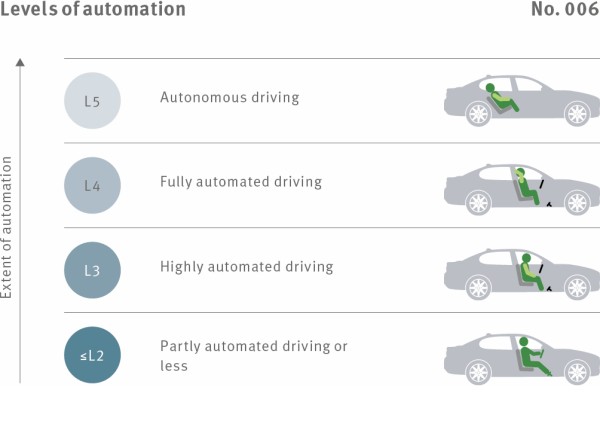 Share Page